Stroke is formed as a result of cerebral vascular deficits, its incidence increases exponentially from 30 years of age. In fact, the signs of stroke are traceable through risk screening, in which we can identify the health status of the cerebral vessels, intervention can be taken to lower the risk of strokes.
It is advised to conduct a regular brain check up, and the frequency depends on your age group as follow: 
| | |
| --- | --- |
| Age | Frequency |
| 30-40 years old | 5 – 8 years |
| 40-60 years old | 5 years |
| over 60 years old | 3 – 5 years |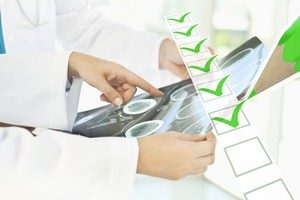 有見及此,"HKBSSP"offers a comprehensive Stroke Screening Programme,screening individuals for known risk factors of stroke and implementing management of modifiable risk factors, the programme includes:
Clinical Screening
Detailed medical history taking

Measurement of: body weight, height, blood pressure and BMI
Electrocardiography (ECG)
Detailed neurological, vascular & stroke risk assessment and explanation of results by our vascular neurosurgeon


Laboratory Test Screening
Complete Blood Count (CBC) 

 Diabetic Screening
Lipid Profile
Full Liver Functions
Renal / Kidney Functions
Gout Screening / Uric acid
Urine Routine Analysis


Optional Items
Clotting Profile
Comprehensive Cancer Marker Profile
Chest X-ray 



Our vascular neurosurgeon will evaluate the test results from the above items, and will recommend further neuro-radiological imaging, electro-neuro-physiological study & any related tests if necessary.


For further information of what each item includes and price, please contact us via +852 2367 6116 or make booking now.